Stake Social -

Football prediction game

Challenge your mates today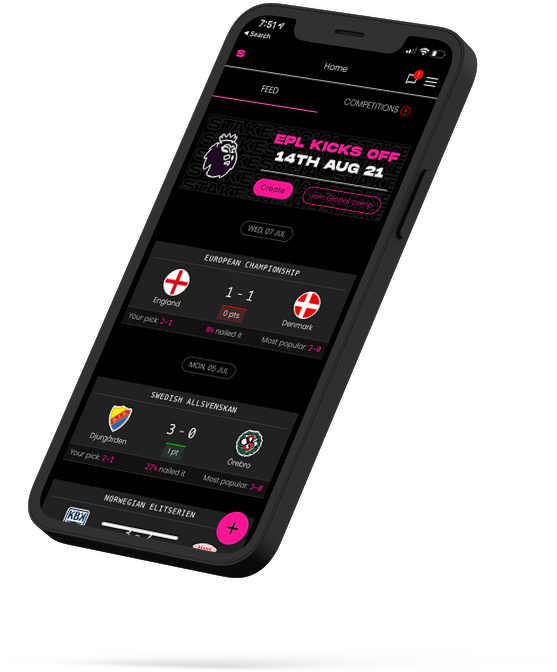 Features
Stake social is free

Set up in less than 1 minute. The easiest way to make predictions on football.

Invite and Share

Predict results of matches with effortless simplicity. Invite and share with friends.

Raise the Stakes

For bragging rights or a drink with friends. Challenge your mates today.
All Major Leagues
Make picks for any match, league or championship with up to the second data and results covered. Stake Social makes it easy to create, share, or join a competition and make a stake with friends. We've got you covered.
Premier league

Swedish Allsvenskan

Norwegian Elite Serien

Italian Serie A

Spanish La Liga

German Bundesliga

French Ligue 1

Dutch Eredivisie
Games
Correct Score
Pick your scores. That's it, you're done.
Show your friends you are the best at tipping match scores. No worries if you're not quite Nostradamus, you get points for a correct result too.
Get your picks in before the start of the match. Scores will be updated live and your points will be confirmed once the match has finished.
Check out competition standings by round or total to see where you place against others. Call them out in the chat, go on, put that witty banter to use.
Get Started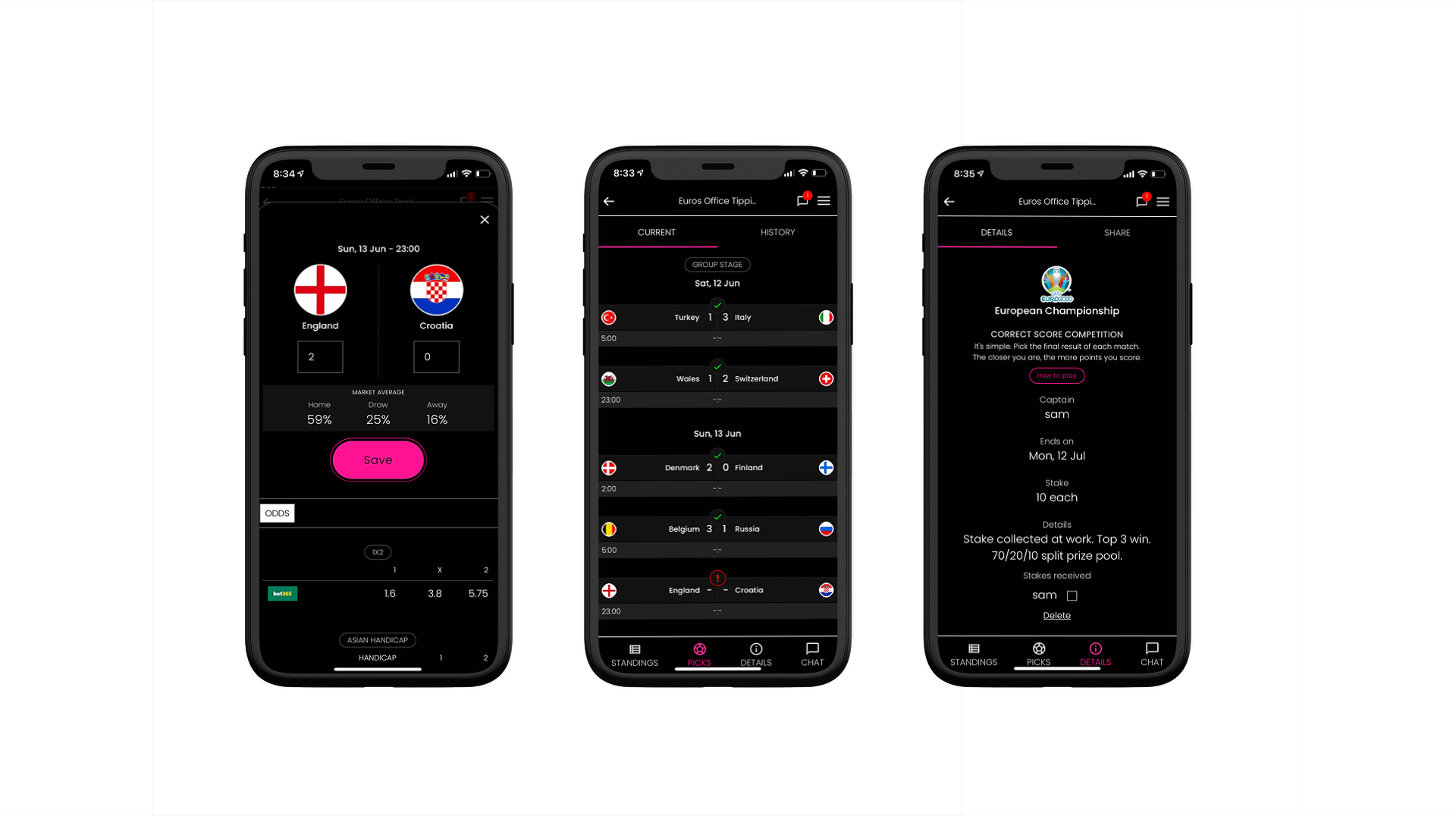 Last Man Standing
If your pick wins, you're still standing.
The round based competition where you pick a team. If your pick wins, you're still standing, if it loses, you're out!
Each round you must pick a team to win their game. If your team wins, you progress to the following round.
Sounds easy, right? Well, one important rule, you can not select the same team twice in the competition. Yeah, not so easy now is it. Plan ahead to beat your friends in the long game.
Get Started
How it works
Set up a competition
Anyone can set up their own competition and challenge friends, colleagues, family or strangers if that's your thing. To set up a competition all you need is to follow these steps:
⚽ Tap the (+) icon
⚽ Select a League or Cup
⚽ Pick a Competition Type
⚽ Make your Stake*
⚽ Invite and Share
* What are you playing for, Lunch, Beer, Bragging rights? Remember, with great responsibility comes great power. Stake Social takes no responsibility.
Get Started
Or… Join a Competition
You can join a competition by invitation from a friend with the web link, share code, or in the app. Log in, accept what's at stake, and you are ready to go!
Billy no mates? Log in and join one of the public Stake Social competitions and can climb that Global Leaderboard.
FAQs
Why use Stake Social?

Setting up and managing competitions with pals is a pain.

Keeping a ledger of who has chipped in and who has not is always messy.

We want to replace excel sheets and remove the burden of set up / management.

Managing upcoming matches and results is hard but we've got up to the second data in one spot.

We want to make it so simple to invite and share with friends and agree on the stakes.
What are the main menu items in a Competition?

Standings: Check out your competition standings by match week or overall to see where you are placed against others. Tap on a person's name to see their past picks and live score results.

Picks: Where you make your picks. Check out the form table, market odds, and insight to help you make the right choice. Live scores update in realtime.

Details: A handy spot with all info you need to remind you of what's at stake. The competition type, the rules, when it ends, what's at stake, a share link and if buy-ins have been paid.

Chat: Call out your mates in the chat, go on, put that witty banter to use. A killer goal, wicked save, bad beat, winning streak, side bet perhaps. All in one place not lost in a group thread.
Can you edit picks after they have been selected?

You can change your picks as many times as you like up to kick-off (Correct Score) or before a round starts (Last Man Standing) depending on the Competition type selected. Go easy though, you don't want to hurt your little thumbs now do you.
What happens if a match is postponed?

Matches that have been postponed will be removed from the round. We know you are eager to make picks so once they have been rescheduled they will be ready for you. For Last Man Standing if you selected team has been postponed you'll need to make another pick.
Cancelled or abandoned events?

If a match or race is cancelled or abandoned it will be removed from the competition.
Can I view other player picks?

You can not view other players' picks until the match has kicked-off. After kick-off all players' picks in your competition can be viewed.
Forgot to pick for a match?

No picks, no points. Sorry mate, your loss. You will earn 0 points if you forget to enter a result for Correct Score and for Last Man Standing you will be assigned the worst ranked team in the league.
Set up a competition in less than 1 minute.
Get Started